Immerse yourself in the arts at Peace Gallery North.
We are honoured to represent many of the Peace Region's finest artists and artisans, both established and emerging. The artists we represent continually offer the highest quality of work while exploring fresh ideas and ways of expressing themselves.
Stay up to date on the going's on at the Gallery: visit this page often, follow us on the Peace Gallery North Facebook page or get added to our newsletter by emailing us at gallery@npcc.bc.ca .We will keep you posted with upcoming events, activities and plenty of terrific art!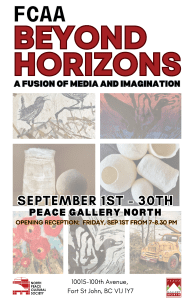 Join us this upcoming Friday, September 1st, as we unveil an exciting new exhibition at Peace Gallery North. Presented by the Flying Colours Artists' Association, "Beyond Horizons: A Fusion Of Media And Imagination". Discover an incredible collection of artworks spanning a diverse range of mediums, all brought to life by a multitude of talented artists. […]
10015 - 100 Ave,
Fort St John, British Columbia
Canada
V1J 1Y7