Become a member and join the amazing adventure of the arts in Fort St. John and the region. Plus membership comes with perks.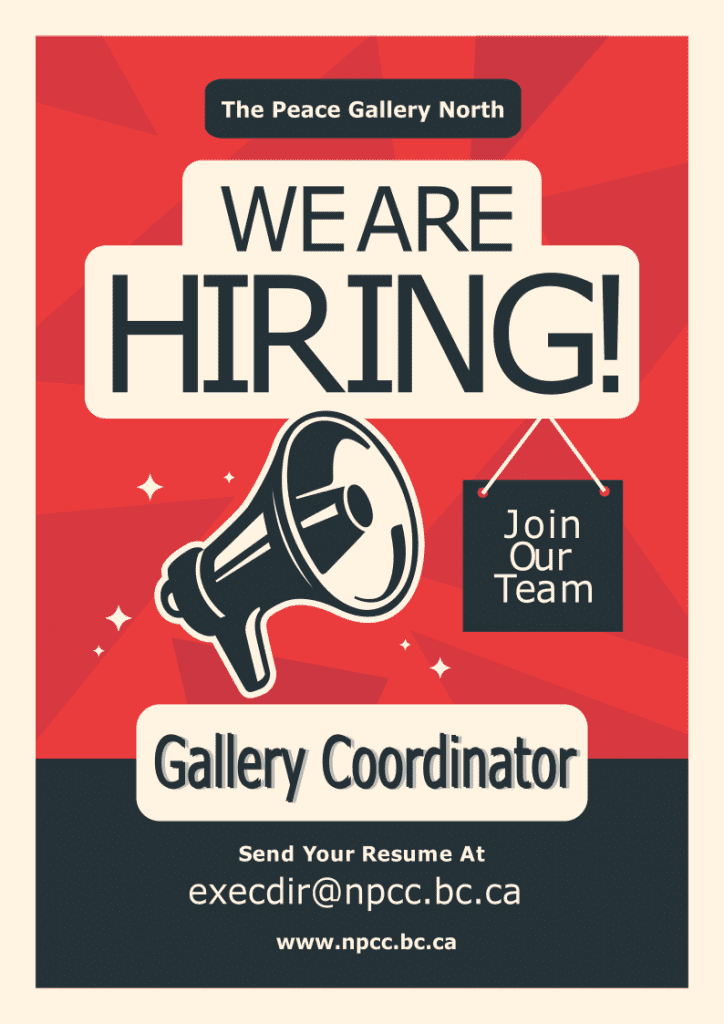 Gallery Coordinator
POSITION TITLE: Gallery Manager
DEFINITION: Responsible for achieving the goals and objectives for the successful operation of Peace Gallery North
DESCRIPTION: Part-time ( until COVID restrictions are lifted)  Mondays to Saturdays 11 AM to 5 PM
WAGE RATE: $20.87 per hour
ART GALLERY
Responsible for establishing an annual calendar of artist exhibits
Responsible for contracting, hanging, opening, sales and marketing success of gallery shows and exhibits
Responsible for creating new and exciting displays and spaces within the gallery
Responsible for inclusion of local artisans where possible
Responsible for arranging gallery tours
Responsible for producing the annual Christmas Market, running November through December, including merchandise, décor, volunteers, launch events, marketing, sponsor recognition, and other related duties
GALLERY GIFT SHOP
Ensures effective operations of the Gallery gift store including the jury, contract, sales and pricing, discounting, marketing promotions, merchandising, payout
Maintains adequate stock supplies and records relating to sales and stock control and rotation
Balances daily receipts and prepares bank deposits
Maintains contact with vendors and artisans
MARKETING
Media contact and coverage for all Gallery events, exhibits, merchandising events
Maintaining Social Media sites
KNOWLEDGE, ABILITIES AND SKILLS
Knowledge of the art community in the region, and retail experience
Ability to establish and maintain effective working relationships with staff, artists, volunteers and patrons
Being able to work independently
Support the Society & The Centre!
The North Peace Cultural Centre is a non-profit charitable organization that encourages members and friends to enhance the Centre through donations of time, materials and money.
Gift Certificates are a wonderful option for the art and entertainment lover in your life. Available in any denomination.
10015 100 Ave,
Fort St John, British Columbia
Canada
V1J 1Y7